Time to plant your free tree!
Now is the time to plant trees, especially the free tree you received at Nashville Tree Fest. The roots of the tree will love to be in a permanent home so they can grow strongly over the next year. Here is a newly planted tree adage: the first it year sleeps, the second year it creeps, and the third year it leaps.
A few tips:
Call 811 before you dig! Make sure the tree will not grow into underground or overhead wires. CLICK HERE for a location guide.

Make sure you review the planting instructions on proper width and depth of the planting hole. CLICK HERE for a planting guide.

If using the free bag of EarthMix soil, mix well with existing dirt so the tree roots will grow outward. If your tree is too happy with the good soil, roots may not expand.

See notes below about your EarthMix free coupon retailers.

Take photos of your tree. You'll be so happy to see how much it can grow in a year with the proper TLC.

Once your tree grows to 1" diameter, it will qualify to be included in Root Nashville's canopy campaign. Nashville Tree Foundation will follow up with you to report it as part of Nashville Tree Fest planting.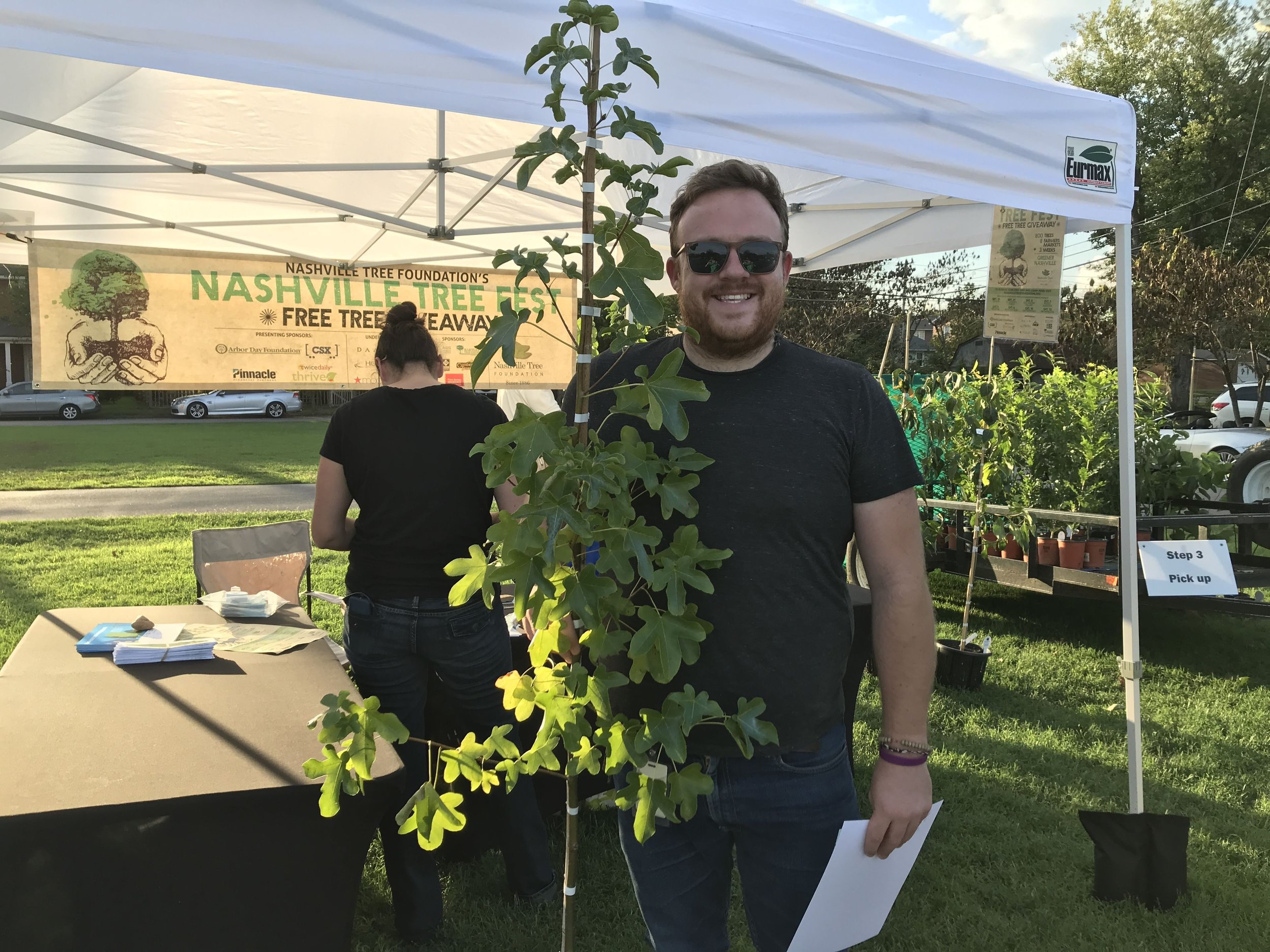 SCENES FROM NASHVILLE TREE FEST 2018
Nashville Tree Fest in the press
We are excited about our latest press,
Click here for New York Times article
Click here for NewsChannel5 segment
Click here for The Contributor Magazine "Replant the City" article
Click here for StyleBlueprint article
Click here for Tennessean coverage of Root Nashville
Thanks to the following generous sponsors:
Presenting
Underwriting
Sponsors
Community Partner
Nashville Tree Fest
100 trees x 8 farmers markets = 800 trees and a healthy Nashville
Nashville Tree Fest wrapped up with 8 great markets to distribute trees to neighbors in Davidson County. What's next?
Schedule
September 25 - 12th South Farmer's Market - Sevier Park - 3:30 to 6:30 pm
September 27 - St. George's Episcopal Church - Harding Road - 3:30 to 6:30 pm
October 2 - Old Hickory Village - Hermitage - 3:30 to 7 pm
*October 3 - Plaza Mariachi promenade - 3955 Nolensville Pike - 4 to 6 pm*
October 5 - Bellevue - Red Caboose Park - 5 to 7 pm
October 6 - Richland Park Farmer's Market - Charlotte Pike - 9 to 12:30 pm
October 10 - East Nashville - Shelby Park - 3:30 to 6:00 pm
October 12 - Hip Donelson - Two Rivers Mansion - 4 to 7 pm
*Location change*
Update: Your free bag of EarthMix Premium Top Soil coupon.
All trees received a bag* of free EarthMix Top Soil at Tree Fest or a coupon for a bag from your local participating* garden center. This will ensure your trees start their growth with the best soil — EarthMix is locally made here in Nashville and 100% organic!
*If you received a coupon for a free bag, check the EarthMix website for participating retailers. We are sorry to inform you that The Turnip Truck in East Nashville will not participate in this program.
Thanks to our friends at Cumberland Transit, you can enter for a chance to win a free Eno SingleNest hammock and slap strap package.
Only one entry per person at each market. One winner per household for the entire Nashville Tree Fest celebration. You do not have to receive a free tree to register for the hammock drawing.
Drawings will be held 30 minutes prior to each market closing (see schedule above); you do not have to be present to win.

Free tree info
Trees must be planted in Davidson County at the registered household address and are non-transferable.

Seventy-five (75) 1-gallon trees (redbud, blackgum, flowering dogwood and shumard oak) will be available at each market on a first come, first served basis. On-site registrations will be required for 1-gallon trees.

Click here to determine which species is the right tree for your yard.

Reserved trees (all reserved) not picked up within 30 minutes of market close at location you selected on the order form will be given away on a first come first serve basis. 3-gallon species information: redbud, seedless sweetgum, Kousa dogwood

All registered trees will be submitted for tree canopy inventory as part of the new citywide Root Nashville canopy campaign. You will be automatically signed up for NTF's tree care e-newsletters.
Help releaf nashville by participating in this exciting program!
Why Free Trees?
Metro Davidson County is facing an increasingly diminishing tree canopy as an unintended consequence of its rapid growth and development, aging tree canopy, and the imminent devastation from the emerald ash borer. The benefits urban trees provide a community are many. They cool our homes, reducing electricity use, and improve our health by cleaning the air we breathe. They reduce stormwater flow and mitigate water pollution. By providing shade, trees reduce the "heat island" effect, especially important to our more vulnerable citizens. Trees add character and beauty to our neighborhoods. They provide a place for birds and squirrels to live and for children to play and create memories. A resilient city is one that has a healthy, growing urban forest. This canopy loss affects the well-being of every citizen. Click here to access the National Tree Benefit calculator and see just how much a tree saves you every year!